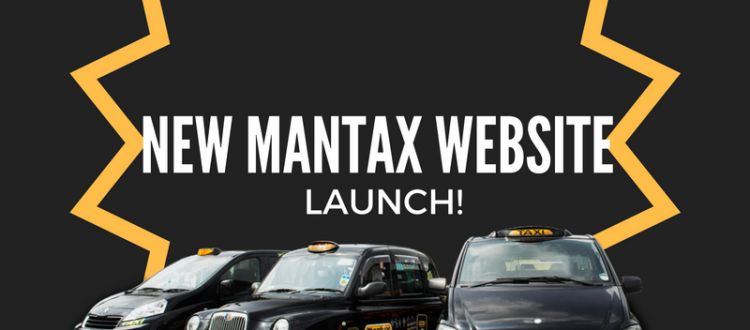 As well as constantly investing in our expert knowledge and skillset, we're also investing in our image. As part of a recent business overhaul, we've invested in shiny new branding and a fantastic website to go with it. But what does this mean for you? Well, our new site is much easier to navigate – meaning that you can book a cab quicker and much more easily!
In case you're not already familiar with us and what we do, here's a brief introductory paragraph with a little bit about us to explain what our new branding represents, along with a whistle-stop tour of our brand new site to act as a quick guide. Discover how each page gets you closer to finding a reliable plumber for your home below.
Who are we?
Mantax is a local, reliable, firm with the largest fleet of taxis in Manchester. All of our taxis accommodate a minimum of 5 passengers comfortably. We have a fleet of traditional black cabs (TX4) which can take 5 passengers, a fleet of Mercedes Vito that fit 6 passengers as standard & also several Peugeot E7's that can accommodate up to 7 passengers. All of our vehicles are wheelchair accessible and all of our drivers are specially trained to ensure they provide the best possible taxi service for all disabled passengers.
Our new website
Services: It may be self-explanatory, but we've gone the extra mile with our Services page – with small yet detailed descriptions of the types of work we offer and how we do what we do. If you don't see what you are looking for, are unsure what it is you need or require more information on your chosen service, then don't hesitate to get in touch with us.
Online Booker: Understandably, another element of uncertainty when dealing with a taxi company is 'Are their services fast? How do I know they will take me to my destination on time?' It's easy for any company to bathe themselves in a positive light on their website – so we go a step further by providing fast and efficient ways of processing your booking. Simply click on the 'Book Online' tab to place your booking with Mantax!
Pricing: We believe in being honest and upfront with our customers at all times – so why shouldn't that begin as soon as you browse our website? Here you can clearly see our baseline prices for our services – but you can also obtain an accurate no-obligation quote for any plumbing work you may need carrying out by getting in touch with us directly via email or telephone.
If you'd like more information on any of our services or the company as a whole and can't find the answer to your question or what you are looking for on our services or FAQ pages, then please get in touch with us via our contact page.